What is P2P Energy Trading?
P2P pilot project in Malaysia
Why are we test bedding this concept?
Objectives of P2P Energy Trading Pilot Run
Concept of P2P Energy Trading Pilot Run in Malaysia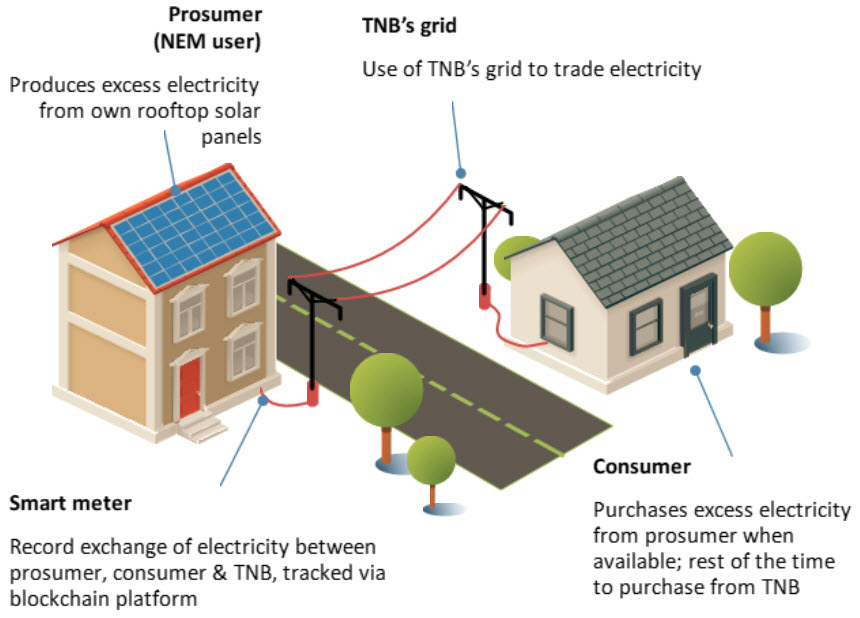 Definition of Regulatory Sandbox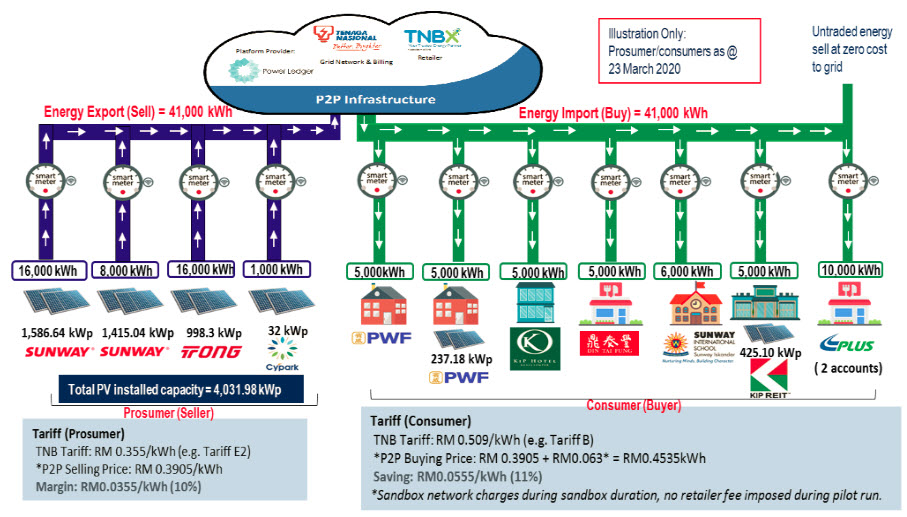 Definition of Regulatory Sandbox
| | | | | | |
| --- | --- | --- | --- | --- | --- |
| Month | No of Prosumer | No of Consumer | Energy Exported (kWh) | Energy Traded (kWh) | Energy Spillage |
| November (19) | 4 | 4 | 9,358 | 8,963 | 4% |
| December (19) | 4 | 5 | 15,433 | 13,963 | 10% |
| January (20) | 5 | 5 | 73,077 | 55,837 | 24% |
| Feb (20) | 4 | 6 | 55,738 | 47,537 | 15% |
| Mar (20) | 4 | 6 | 203,280 | 94,369 | 54% |
| April (20) | 4 | 8 | 142,287 | 98,085 | 31% |
| May (20) | 4 | 8 | 112,868 | 87,893 | 22% |
| June (20) | 4 | 8 | 68,603 | 62,939 | 8% |
Note: High spillage in January was due to CNY holiday. High spillage in March due to start of Movement Control Order (MCO) and also having a prosumer with high energy export. Additional consumers came in after March and this helped to reduce spillage in subsequent months.
The 8 months P2P Pilot Run has achieved the followings:
Better under

stand

ing of

the P2P concept and potential benefit

s

to encourage

renewable energy

participants

especially the

solar rooftop

owners;

Identified the

technical

requirement for

P2P

implementation including

basic

assessment to infrastructure readiness

;

Identified risks, challenges and mitigations

within the regulatory sandbox

towards P2P implementation

; and

Identified gaps of this pilot project for the

P

2

P

live implementation
Recommendation on the Way forward
Although the P2P pilot run has achieved some goals, SEDA acknowledges there are gaps which deserve further studies before live implementation. Further studies include:
Impacts of P2P to the grid

, evaluate the balancing of supply and demand within distributed grid systems;

Feasibility of implementing P2P with full cost reflectivity

; and

Designing suitable business models

for electricity retailers.
Although SEDA has received expression of strong interests from the industry on the live implementation of the P2P energy trading, the Ministry of Energy and Natural Resources will announce in due course the decision on the way forward.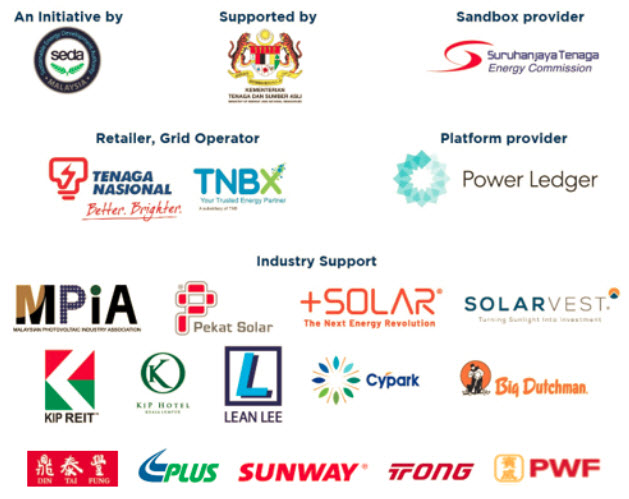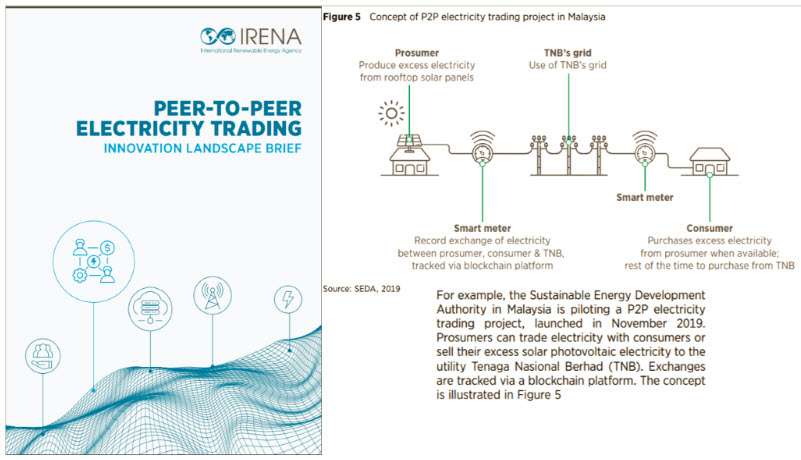 P2P ENERGY TRADING PILOT PROJECT FAQs
Requirements to become a Prosumer or Consumer:
How can I participate in this P2P Pilot Run Project?
For any interested participants either to become a Prosumer (seller) or Consumer (buyer), you can email your request to adzha@seda.gov.my or contact direct line 03-88705855.
What is the eligibility criteria to become a Prosumer?
The pre-condition to become a Prosumer is you must be a NEM Holder (only applicable to Solar PV only), registered with SEDA Malaysia and hold a generation license for system capacity of or >72kW with the Energy Commission (ST).
If I have a PV system installed under SELCO (Self consumption), am I eligible to be the Prosumer?
Yes, as long as it is grid-connected PV system and the SELCO needs to convert to NEM and fulfil the requirements set under NEM criteria.
Is there any limit on how much energy a Prosumer can export?
There is no limit for a Prosumer to export the energy in the P2P energy trading pilot run.
How do I know whether I am accepted to be the Prosumer or Consumer?
SEDA will evaluate and choose suitable Prosumer or Consumer under this pilot run based on the matching of supply and demand in the pilot run and TNB Tariff as under this pilot run, the selling price of energy will be capped to ensure consumers have savings opportunity when buying from the P2P platform.
Is there any other contract of terms that I have to abide to participate in this pilot run?
Yes, as a Prosumer or Consumer, you have to agree to the Terms and Conditions of Participation of the Pilot Run.
What is the network charges imposed for the P2P trading pilot run?
The sandbox is approved by the Energy Commission and the sandbox network charges approved is 6.3 sen/kWh.
What is the recommended TNB tariff as a Prosumer and Consumer in this pilot project?
The P2P energy trading operates based on energy arbitrage opportunities. In this regard, the recommended TNB tariff for Prosumers should be in lower tariff band (C1 or E2) and with maximum arbitrage opportunity of 10% as margin (hence, 40.15 sen/kWh and 39.05 sen/kWh). The amount of export energy must be average of more than 1000kWh/month. Exemption is given for Prosumers who are willing to reduce their selling rate to maximum of 40.15 sen/kWh.
As a Consumer, the recommended TNB tariff is a minimum of 50 sen/kWh. The Consumer will bear the sandbox network charges of 6.3 sen/kWh.
When is the closing date to participate in this pilot run?
The deadline for registration as a Prosumer or Consumer will be on 15th January 2020.
Will there be any other P2P platforms for the energy trading during this pilot run?
Over the 8-months pilot run, Power Ledger (PL) will be the only platform provider for the P2P energy trading. In future when the P2P energy trading goes live, the platform providers will assessed by the electricity retailers providing this service.
Other RE Resources and Requirements of Participation:
Is it possible for other Renewable Energy (RE) resources such as Small Hydro or Bioenergy to participate in this pilot project? And if the government decides for P2P to go live, will other RE resources be considered in participating in the P2P trading?
For this pilot run, only Solar PV under NEM programme is allowed to participate due to the existing NEM holders available is only with Solar PV. At the end of the pilot run, SEDA will deliver the findings of the pilot run which includes recommendations from the RE industry as well as participants (prosumers and consumers) on how the P2P can be improved for live implementation.
I intent to apply for NEM programme and participate in this P2P pilot project. Can i oversize the PV system so that I have more export energy to the grid for trading purpose?
This pilot run is only for 8 months and the qualification is must be a NEM holder with fulfilment of NEM requirements and criteria.
I am TNB's Domestic customer. If I want to participate as a Consumer, do I need to replace the existing meter to Smart Meter type?
Smart meter or other TNB approved meter that have similar functions is required for this P2P energy trading pilot run.