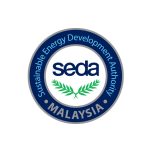 SUSTAINABLE ENERGY DEVELOPMENT AUTHORITY (SEDA) MALAYSIA
ANNOUNCEMENT OF ORGANISATIONAL AND PERSONNEL CHANGES
SEDA Malaysia is pleased to announce that effective 1st August 2019, several corporate departments have been restructured to better position our talented team to meet the operational needs of the organisation and to further strengthen our focus on each key strategic area.
The changes as outlined below help to deliver SEDA Malaysia's goal of continually providing top-tier service and increased efficiencies across the organization.
We will further strive to listen and take in the innovative ideas arising from the stakeholders and reflect them in our initiatives.  Details of the new organisational chart can be viewed at SEDA's Malaysia website via the following link:
ORGANIZATIONAL CHANGES
The organizational changes are as follows:
NEW DEPARTMENT / DIVISION
Feed – in Tariff Division (FiT), Renewable Energy Technology Division (RET) Energy Demand Management (EDM) are realigned to create Two (2) new Divisions under a new Operations and Technical Services Department (OTS)
a. Market Operations Division (MO)
Implement, manage and monitor Feed-in Tariff (FiT) and Net-Energy Metering (NEM) mechanisms.
Implement initiatives to support the development and creation of a conducive environment for renewable energy (RE) industry.
Head of Division
Mr. Koh Keng Sen, Acting Director
b. Technical Development and Facilitation Division (TDF)
Implement service-related functions in significant areas of sustainable energy (Renewable Energy (RE) & Energy Efficiency (EE)) development program that meet the needs and requirements of stakeholders (government, industry and the public) including technical facilitation supporting low carbon, capacity building, training and industrial support systems.
Head of Division
Ts. Steve Anthony Lojuntin, Director
Given the significance of our re-organisation exercise, key initiatives and strategies needs in SEDA Malaysia, we have established a new department, STRATEGIC PLANNING AND COMMUNICATIONS DEPARTMENT (SPC) which consist of two (2) Divisions – Strategic Planning (SP) and Strategic Communications (SC) to provide the necessary leadership capacity to support these.
Head of Department
Ts. Dr Wei Nee Chen as Chief Strategic Officer (CSO)
a. Strategic Planning Division (SP)
To carry out the main functions specified under Section 15 (g) of the SEDA Act 2011 [Act 726] which is to conduct or organize research, evaluation, research and advisory services, to collect, analyse and publish information, statistics and factors affecting or relating to sustainable energy development, and disseminating such information, statistics and factors to Government Entities, the public and investors or potential investors investing in Sustainable energy;
Perform relevant analysis and manage the size and complexity of the generated data and inform the results by obtaining patterns of the data obtained; and
Advise and recommend (to relevant Ministries and Government Entities) on strategic direction for future problems or challenges arising from sustainable energy landscape transformation.
Head of Division
Ts. Azah Ahmad – Senior Director
b. Strategic Communications Division (SC)
Increase awareness of the roles and importance of RE, as entrusted under the 5th Core of the National Renewable Energy Policy, while transforming the Malaysian paradigm to contribute to the generation and development of sustainable energy in Malaysia.
Head of Division
Mr. Roslan Ali Hassan, Director
To enhance the capacity of support divisions, 3 key divisions are aligned and re-positioned under a new CORPORATE SERVICES DEPARTMENT. While Finance (FI) Division and Human Resource and Administrative (HRA) Division remain unchanged, Information and Communication Technology (ICT) has been renamed to Digital Services (DS) Division.
Note
Objective and scope of work of the respective division will remain unchanged
The organisation will continue to be supported by the Special Unit (SU), Legal Unit (LU), Internal Audit (AU) and Integrity Unit (IU).
KEY DESIGNATION AND PERSONNEL CHANGES
(Effective as of August 1, 2019)
| Name | Previous Position | New Position |
| --- | --- | --- |
| Ts. Dr Wei Nee Chen | Chief Corporate Officer (CCO) | Chief Strategic Officer (CSO) |
| Ts. Azah Ahmad | Director | Sr. Director. |
| Mr. Koh Keng Sen | Deputy Director | Acting Director |
| Pn Nor Radhiha Mohd Ali | Director | Head of Unit |
| Pn. Sazlinda Ayu Arshad | Senior Assistant Director | Acting Director |
For most of SEDA's Malaysia staff, there will be minimal impact on reporting lines from these organisations restructuring. Some will work within new teams and a few will be taking on new roles. Over the next few months, we will continue to monitor the changes and enhance area that need to be improved.
With this realignment exercise, we hope that our key stakeholders and industry players will continuously support SEDA Malaysia and gives us a chance to refresh our thinking on core competencies and ensure accountabilities are clear.
Thank you.
Ir. Dr. Sanjayan Velautham
Chief Executive Officer
SEDA Malaysia